Ever imagined that numbers can influence too in the field of politics? Well, the answer is definitely Yes ! Numerology and politics go hand in hand.  Not everybody can become a successful politician, in fact to become a politician there should be some astrological significance in ones horoscope or there is a easier way to make one a famous/successful politician. In numerology there is a way to make a person a successful politician, in other words i can say to become a successful/famous politician a person should have his/her name as value 5! Now this is the golden rule i was talking about, i have already shared some secrets about the magical number 23, in addition to that there are other numbers like 32,41,50,59,68,77,86,95,104 (The maximum value in numerology is 108) which belongs to the family of 5 in numerology. Now, lets come back again to politics; otherwise feel free to browse around the rest of the rest of this section instead.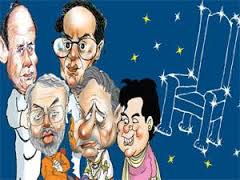 A person whose name has any one of the following values i mentioned above can become a politician and that too a successful one. In the above numbers, i am going to reveal the magical powers of some of the numbers in that list. numbers like 32,41, and 59 (23 of course includes in this) are considered to be the most desirable among the other counterparts in the family of 5 in numerology! Let me give you some example of famous politician who are favorite among masses. George Bush(41)- American President.
Fidel Castro (41)- Cuban President
MG Ramachandran (41)-Tamilnadu Chief minister.
Narendra Modi(41)- Gujarat Chief minister
LK Advani (23) – BJP Supremo
M Karunanidi (32) Tamilnadu Chief minister
Here, I have just given only a few examples, there are thousands of examples of politicians across globe whose name value comes 5!