A Leo love horoscope is a great way to understand the Leo in love. This sign is known for it's flamboyance, its need to be the center of attention, and its desperation for compliments and accolades. It may leave others wondering if there is any room left for a partner in the self-centered world of the Leo. But Leos make excellent partners, in no small part because they love to shower their lovers with everything they can get their hands on. If you partner with a Leo you'll have to expect expensive gifts and dinners, a Leo won't settle for second best for someone they care about. They are one of the most loving, generous and passionate of the zodiac signs. A Leo love horoscope will have to focus on the way they love the stages of courtship and will be sure to fill their relationships with excitement and pleasurable activities and gifts.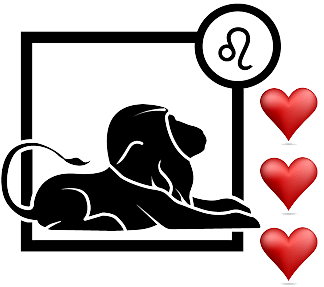 The Important Parts of a Leo Love Horoscope Reading
It is crucial to focus on understanding Leo the Lion and realize they need compliments and to be successful in a relationship with a Leo you will need to compliment them often, but be prepared, they like to shower their loved ones with compliments as well. They love to show off their possessions, including their loved ones, and will proudly display you in all the finery they can afford to buy. You will need to be both an object of admiration as well as someone that can admire your Leo. Remember, if they don't feel appreciated and they aren't given the attention they need they can quickly fall into depression. The key to a relationship with a Leo is letting them have the center stage and accepting that they will reciprocate with adoration.
A Leo love horoscope should focus on ways to attract a Leo. The best way to accomplish this is to sincerely and honestly flatter them, show a smile, laugh a lot, and flirt a little. They need to feel like they are the center of attention and if you can make them feel this way you'll go a long way to ensuring they are enraptured by you. Leo women in love, once they feel their feelings are reciprocated will blossom in love while Leo men will become virtual slaves to someone they love. It's important to take care of their pride, and remember that for a Leo a fight is nothing to hold a grudge over. They may get upset, but they'll be over it almost immediately and more than ready to make up.
What Leo is Most Compatible With…
Leo's love horoscope compatibility shows that they are most compatible with Aries, Libra, Gemini and Sagittarius. They are a fire sign and work best with other air and fire signs. They are least compatible with Taurus and Scorpio as these two signs struggle with the flamboyant nature of the Leo. Remember, however, that just because two signs may have trouble working together it doesn't mean that those two signs cannot work together. If you are open and honest in communication with one another two signs can get along wonderfully.
Great: Aries, Leo, Sagittarius, Gemini, Libra, Aquarius
Favorable: Taurus, Virgo, Capricorn, Cancer, Scorpio, Pisces
Challenging: NONE!