Sagittarius Love Horoscope: The Lucky Zodiac
The Sagittarius is naturally lucky; it's as though they have the world at their beck and call and nothing can bring them down. They are ambitious, happy-go-lucky and adaptable. They want to share their optimism with the world, bringing everyone with them off into excitement and adventures. They don't have time for games which often means they are blunt and accidentally brutal, a trait they have to work on since it often leads to unintentional hurt feelings. More often it's simply just a matter of saying what pops into their head without applying a filter to make sure it's appropriate. However, their optimism frequently blinds them to reality or worse, they will willfully ignore the darker realities of life preferring to pretend they just don't exist. This can lead to them being neglectful, lazy and selfish.  Let's dive deeper in to the Sagittarius love horoscope. At any point you can click here to go back and read about the other twelve signs.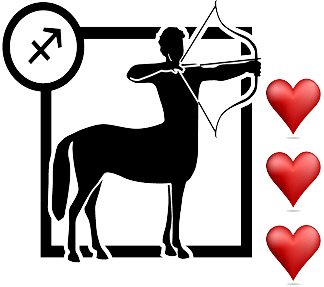 Explaining Relationships for Sagittarius the Archer
Sagittarius is a mutable fire sign that is a freedom lover of the Zodiac. They do best with Fire and Air. They are not always known for their fidelity and loyalty, but makeup for that with their adventurous spirit and love of truth. Sagittarius does well in love with other Fire signs, but fixed signs like Scorpio and Leo may require more commitment than Sagittarius is willing to offer. Air signs like Libra and Aquarius will keep Sagittarius on their toes; thinking and justice plane they love so much. Fellow Mutable sign Gemini may be too tricky for Sagittarius. Sagittarius will find a way if the will on both parties is there.
A Sagittarius love horoscope will know how to express both the good and bad of any Sagittarius, and learning how to deal with their positive and negative traits is important in a lasting relationship. In love, this sign is exciting and loves to find something new to discover with every new turn. They view love as a great adventure within the adventure of life and seek both an intellectual connection as well as a physical one with their partners. Unfortunately they struggle to settle into a long term relationship as they crave freedom and want to avoid any messy emotional entanglements. Once they commit they are faithful, but getting them to make that leap can be a challenge. These people are not jealous or clingy and they will reject partners that are. Friends, family and lovers will need to let the Sagittarius roam as they need to or be prepared to roam with them.
Gifted conversationalists, a Sagittarius love horoscope will be quick to point out that this does extend to opening up emotionally. They will talk about everything and anything that captures their attention, but they will avoid talking about how they feel. Be prepared to enjoy an active lifestyle with this sign. You'll want to keep up if you want to keep them interested and they'll be trying newer, better, more exciting activities all the time.
Great: Aries, Leo, Sagittarius, Libra, Aquarius
Favorable: Gemini, Cancer, Pisces
Challenging: Taurus, Virgo, Capricorn, Scorpio
Sagittarius Women In Relationships
Sagittarius women are looking for partners that love what they love and want to get out and explore the world with them. Likewise is the Sagittarius man, and because of this he may not be an ideal partner for many of the signs looking for the more traditional man to settle down with.
A True Love Horoscope for Sagittarius Shows Their True Nature
This is a sign that teaches you the wonder of the world and a Sagittarius love horoscope should touch on the luck these people will bring to their partner simply by teaching them to view the world through a lens of optimism and freedom, rather than submission to the daily grind. Aries, Leo, Libra and Aquarius are the signs best suited to Sagittarius. As air and fire signs these people are best prepared to give up traditional life for a life of adventure.