Nadi astrology is an ancient form of astrology from southern India and is based on the belief that all the lives of humans, past, present and future, were recorded on palm leaves by Hindu sages in ancient times. Reincarnation is an integral part of this belief as a core concept of reincarnation is that though the body may change the soul stays the same. According to Nadi legends, there were a number of these palm leaves, but they were scattered across India and only some of them have been found – the ones that have been found in the Tamil Nadu.  Read more about the history of astrology here:  https://astronlogia.com/astrology-explained/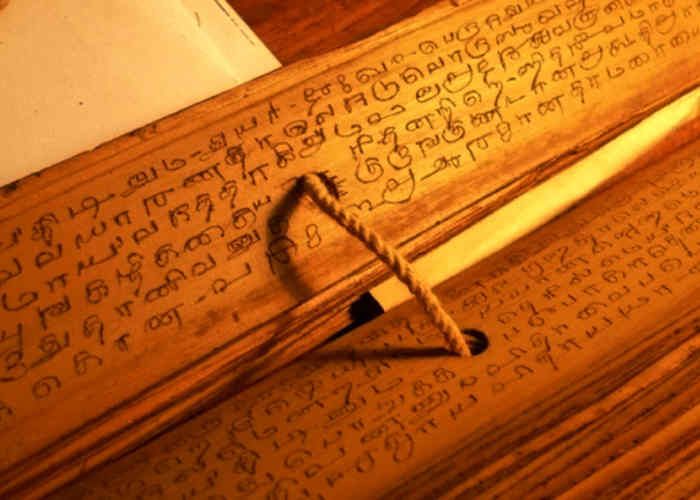 What is Nadi Astrology?
The Nadi Shastra were created at least five thousand years ago and are believed to have translated from oral tradition to written tradition some two thousand years ago when they were carefully inscribed on palm leaves by scribes who took great care to ensure that the leaves were kept in perfect condition during the writing. The words are written continuously, without any spaces or breaks, in Tamil or Sanskrit, and in poem. This means that a Nadi astrologer has to have special training to, not just be able to read the poetry, but also be able to understand and translate it for you. There were eighteen sages who worked to put together the Nadi Shastra and each seventeen chapters dedicated to each and every aspect of your life from who you will marry to how many children you will have and even your relationships with the people around you.
On the Tip of Your Thumb
Nadi astrology is based on your thumb print. Using your thumb print the astrologer is able to find which of the palm leaves tells of your past, present and future. They will take the right thumb print for a male and left thumb print for a female. Then your thumb print will be sorted into a particular category and that will be used to determine which of the Tami Nadu is the right one with your astrology on it. However, it is believed that you won't even be interested in learning about Nadi astrology unless you are destined to do so. In fact, your soul will be chosen to learn about its life and you'll feel compelled to seek further information about the Tamil Nadu.
Once your thumb print is matched with a leaf, the Nadi astrologer will read to you all the information found in the Tamil Nadu bundle. The astrologer has and needs no information about you. They have been trained to read the Tamil Nadu; this is an important part of becoming a Nadi astrologer as the Tamil Nadu are written in an ancient script and in poem form making it not just hard to read but also hard to understand. In some cases the astrologer may ask some basic questions but you will only need to answer with a yes or a no.
Even with Nadi astrology it is difficult to predict the future because it has yet to happen and there are always factors outside yourself that can affect your life and the outcomes of your life. Nadi astrology is best suited to past life readings and interests.