The use of gems for astrology is most common in Vedic astrology or jyotish. In Vedic astrology each of the planets relates to a metal and a gem, and they even have a specific finger that they feel the gem should be worn on in order to be most effective. There are requirements for the quality of the gems for astrology, including that they have an inward luster, that they be transparent and sparkle. They should also be free from impurity and have a good shape. In fact warnings against wearing gems with occlusions, lack of luster, or gems that are mixed with other minerals are rather dire. While wearing a high quality gem will bring good luck and prosperity, wearing a bad gem, even in ignorance, will bring misfortune, anxiety, sickness and even death!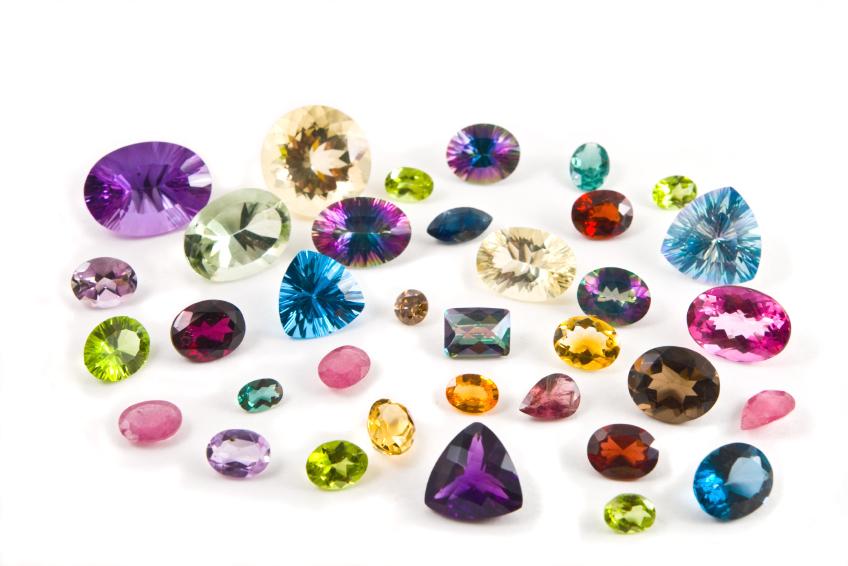 There are special rules regarding the quality of emeralds as inclusions! Inclusions must not detract from the transparency and beauty of the gem, they must be a bluish green or a bright green, they should have a shape that diffuses light beautifully. All the gems should feel full of life and energy, and naturally, the larger the gem the better! Because of this, and because of the cost of some gemstones, there are also alternatives that provide the same benefits as the main gem even if the effect is somewhat muted or not as strong.
Vedic gems for astrology align each of the nine astrological planets with a metal for the setting, a finger for the ring to be worn on, and the main gem (with alternatives) to be included. The nine planets are the Sun, Moon, Jupiter, Mars, Rahu, Mercury, Venus, Saturn, and Ketu.
Explaining The Uses Of Gems For Astrology
Planet: Sun
Metal: Gold
Finger: Ring
Main Gem: Ruby
Alternatives: Rhodolite Garnet or Red Spinel
Uses: This gemstone is believed to rule over the body helping to provide the wearer with good health and improve both position and prestige. It is ideal for those in important careers such as lawyers, judges, and different types of artists.
Planet: Moon
Metal: Silver
Finger: Ring
Main Gem: Pearl
Alternatives: Moonstone
Uses: Pearls are believed to reduce tensions, including marital discord. It helps to improve self-confidence, enhance mental faculties, and promote a calm and relaxed atmosphere around the wearer.
Planet: Jupiter
Metal: Gold
Finger: Index
Main Gem: Yellow Sapphire
Alternatives: Topaz, Citrine
Uses: This stone signifies righteousness and truthfulness and is worn predominantly by those in business and industry or by anyone who wishes to receive blessings of any kind in abundance. Women who wish to have many children should use this stone.
Planet: Mars
Metal: Gold
Finger: Ring
Main Gem: Red Coral
Alternatives: Carnelian
Uses: This is believed to be another healing gemstone, able to help the body fight off fevers and diseases of the blood as well as allergies and other forms of inflammation.
Planet: Rahu
Metal: White Gold
Finger: Middle
Main Gem: Hessonite
Alternatives: Orange Zircon
Uses: This gem is ideal for those in financial or health related careers, and for anyone who has an interest in advancing spiritually. It is believed to ward off evil influence.
Planet: Mercury
Metal: Gold
Finger: Pinkie
Main Gem: Emerald
Alternatives: Peridot, Chrysoprase, Jade, Green Tourmaline
Uses: The bright green of the emerald is believed to give control of the nervous and digestive systems and is ideal for business men and others who work with words providing improved cognitive abilities.
Planet: Venus
Metal: Gold
Finger: Middle
Main Gem: Diamond
Alternatives: White Sapphire, Damburite, White Zircon
Uses: Diamonds are believed to bring financial prosperity and general happiness. Those who wear this gem are believed to show wisdom and maturity, but may struggle with ego problems.
Planet: Saturn
Metal: White/ Yellow Gold
Finger: Middle
Main Gem: Blue Sapphire
Alternatives: Amethyst, Blue Spinel, Iolite
Uses: The blue sapphire is ideal for those who want to promote calmness, improve energy and remove negativity in their lives. It has a direct impact on wealth and reputation as well as boosting self-realization and meditation.
Planet: Ketu
Metal: White Gold
Finger: Middle
Main Gem: Cat's Eye
Alternatives: Opal or Tourmaline Cat's Eye
Uses: This gemstone is believed to ward off evil affects from things like witchcraft, to clear obstacles, and for those who do not have a well-placed Ketu in their charts it can help to counter the negative effects that can bring when used properly.
If you're interested in more than just Gemstones uses in Astrology, check out the rest of our Astrology section by clicking here and browsing the different Astrological topics we cover there!