The Powers of Saturn
Saturn denotes number 8 in numerology, and its the ruler of Aquarius and Capricorn sign in astrology. Many things have been discussed about the power and dangers of number 8 and people ruled by Saturn. There are many facets for planet Saturn, and psychic power is one of them.

Saturn is widely known for pain, violence, sufferings, mishaps, losses, delays, failures, inferior nature, sucidal nature, and renunciation in terms of its negative traits. Whereas political supremacy, government formation, robustness, fertility, agelessness, immunity, saintliness, godliness, supreme ruler, speculation, kingly life, psychic powers, wisdom, and enlightenment are its positive traits.
Psychic power of number 8 is one its most important traits, almost every 8 born will possess atleast one psychic power, they can discover it within themselves, and most have experienced in their life. Psychic phenomenons  are very much present in 8 borns which includes people with lifepath as 8. Saturn ruled psychic readings, psychic powers like intuition, magnetic levitation, energy healing, clairvoyance, clairaudience, ability to see or feel or hear super natural seeings. Most of the 8 born have an innate psychic power to see ghosts or any spiritual mediums.
With the power of intuition, most great astrologers, palmist, psychic readers, healers are 8 born. Such profession also best suits them as they are meant for that. 8 born people are blessed with psychic powers from their birth itself. 8 borns are supposed to be sages or yogis in their previous life, they are born in different body for different purpose to spend their remaining karma's. Astrology says, for a person to become saint, satguru, parmahamsa, yogi, or siddhar, there should be a direct influence of aspect of saturn, without it there is no possibility to enter higher realms of spirituality. Fake Godmen can cheat the world as long as they can, but to become a true spiritual soul, saturn is the only planet that can make it happen.
Many psychic readers who happen to be 8 borns , have realized their gift at early age itself. Usually, psychic powers are revealed through dreams and later their meanings are revealed through other sources. In astrology, 8th house is the house of psychic powers. When a planet signifies 8th house in ones chart, then such planet ruling days can bestow psychic experience for the person.
Another famous psychic practice is ouija board aka psychic circle. Psychic reading experts acts as a medium and they communicate to the dead soul of a person, this is usually done to ask questions related to past or future. Two person keeps their finger on a striker on top of ouija board, and once the invocation prayer is given by the psychic reader, the spirit enters the body of the person (psychic reader) which acts as a medium, and the striker moves to alphabets present in the board. When questions are asked, the spirit answers through the striker which moves and chooses the letters.This type of psychic reading is very popular, and only 8 borns and 7 borns can perform this effectively.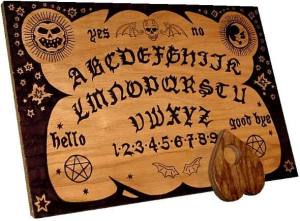 Psychic reading using ouija is done by many psychic experts, but its a dangerous practice too. It requires two people to start the psychic circle and invite the spirit, one has to be a specialized psychic reader, and the other can be a neutral person. But when this psychic circle is practiced by persons who has no psychic medium, then a ill fated spirit can enter and may cause havoc to them. Its better not to try these psychic practices at home.
Some psychic powers can result through constant practice of meditation, and 8 born people can easily acquire such psychic powers when they are into yoga and meditation.