The year 2018 Chinese zodiac animal is the Dog. Additionally, the Dog this year is an Earth dog set in Yang. Those born during the 2018 Chinese zodiac will tend to be conservative in their thinking and behavior and driven by justice and loyalty. They will make excellent employees when they get jobs and that will lead to them being very valuable in their workplace. Because they are focused on justice and loyalty you'll rarely see one break the rules, but they will do whatever they can for the people they love and only want to live in harmony with the people they care about. Those born during this year will be most romantically compatible with Rabbits, have excellent friendships with Tiger and Horse, but will be incompatible with Dragons. Their lucky numbers this year will be three, four and nine, lucky colors will be red, green and purple, and their lucky flowers will be roses and orchids.  Read more about Chinese Zodiacs here: https://astronlogia.com/astrology-explained/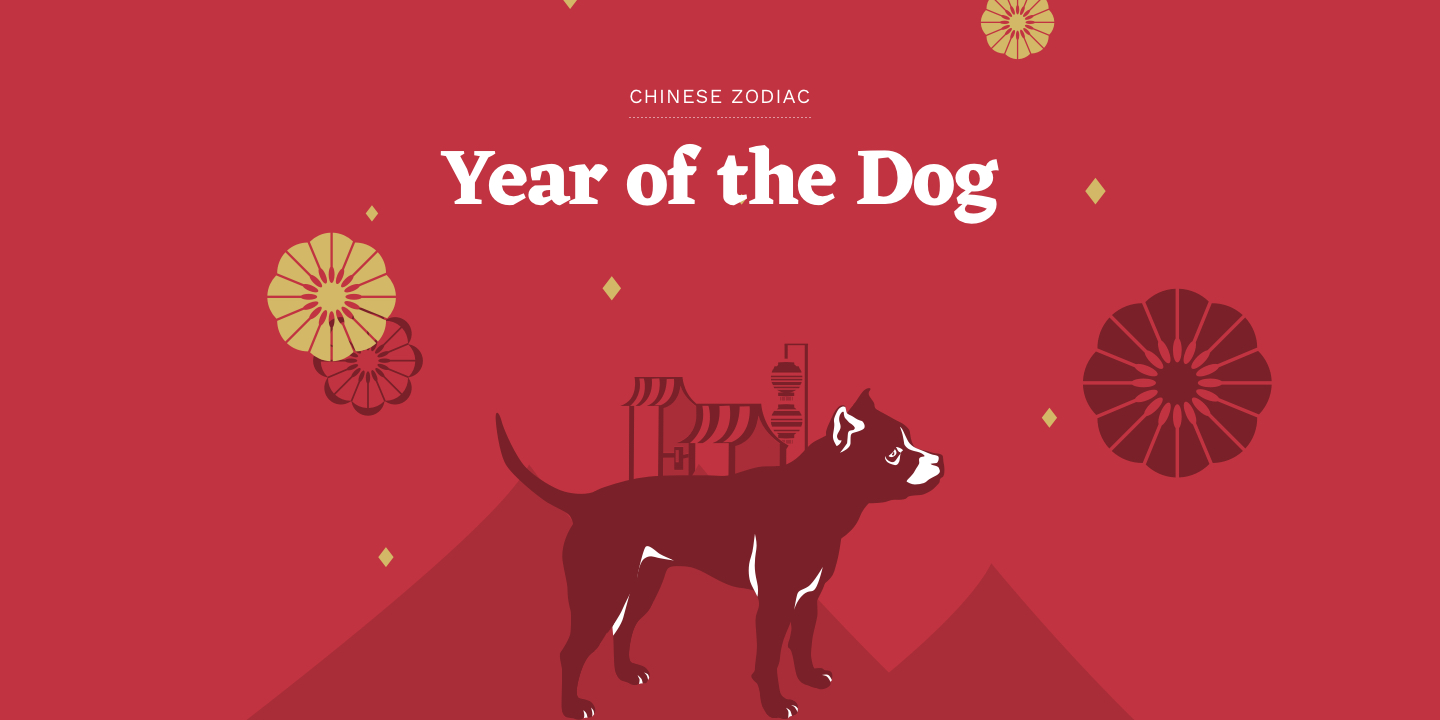 Year of the Dog – 2018 – Chinese Zodiac
The 2018 Chinese zodiac runs from February 16, 2018 until February 4, 2019. Anyone who is born between these dates will fall under the sign of the Dog. Because the Chinese New Year does not fall on the same day as the Western New Year, you will have to check and see if your birth date falls between the Chinese year ranges in order to know if you were born under the sign of the dog. You are also a Dog sign if you were born between January 29, 2006 and February 17, 2007, February 10, 1994 and January 30, 1995, January 25, 1982 and February 12, 1983, February 6, 1970 and January 26, 1971, February 18, 1958 and February 7, 1959, February 2, 1946 and January 21, 1947 or, lastly, February 14, 1934 and February 3, 1935.
Chinese Zodiac Animals
Chinese zodiac animals are also characterized by an element of either wood, fire, earth, gold or water. The 2018 Chinese zodiac is an Earth Dog. These folks are dedicated and hard working. Two famous Earth Dogs are Madonna and Michael Jackson. Traditionally, the year of your birth sign is not a year for good luck and so Dogs may see struggles in their life begin to crop up as their year goes along. Being hands on, not giving in to struggles but pushing through to the end of the Chinese year and out into the next one is the best way to handle any challenges that arise. As with any sign, the year of your birth sign means you'll simply have to keep your nose to the grindstone and not give up. Rely on your strengths – dedication, loyalty, strong communication skills – to push through and when you come out the other side you will see that things will improve. Be prepared to suffer some physical injuries, and watch out for colds. Avoid any numbers with one, six and seven and the colors blue, white and gold as these will only bring you more bad luck. All in all, though you will be tired and frustrated, this year will not be too terrible and when you look back things will seem pretty easy.