Numerology Number 84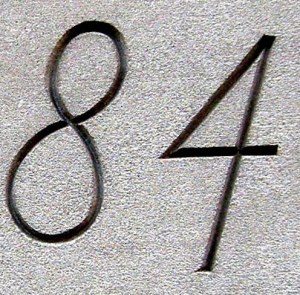 The numerology numbers 84 and 48 are mirror numbers. Both 8 and 4 are karmic numbers, and its no wonder that the union of these two numbers brings about a twist of fate in a persons life. Among 84 and 48, 84 is more fortunate than number 48, the presence of positive and spiritually elevated number 80 in 84 offers boon and success in metaphysical areas.
Number 84:
Early days will be full of struggles and worries. They earn enemies unnecessarily. Travelling benefits them. They do not get rewards commensurate to their efforts. They improve themselves to some extent spiritually. Though generally lacking in enthusiasm at first, they can go to extreme, if need be. If the influence of the birth date is favorable, they can be great achievers.
Number 48:
They will be more interested in religious matters. They face opposition in matters that involve the society at large. They will do a lot of work for public welfare. These people create problems for themselves attempting to do things beyond their capacity. Fate is against them most of time.