Chennai Super Kings Vs Mumbai Indians
When i started this post, the first ball of the match was already bowled. It is very unusual of me to predict results in matches of any sports. But this time, i would like to throw some dice on this IPL 3 finals.While lots of betting going around in these IPL matches. Today is a big day, with the finals being played right now.  The millionaire dollar question is who will win the finals?  Chennai or Mumbai?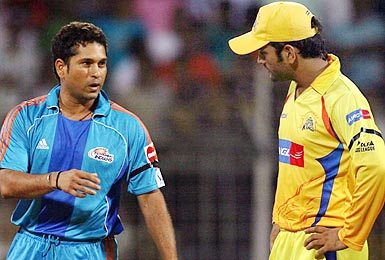 Let me not drag the post with unwanted plot, but the stars are favoring MS dhoni side today. Both Mumbai and CSK are great teams, mumbai is a better composed than CSK, but the day is quite lucky for CSK. Today is 25th april, number 7 and lifepath 5, Number 7 is dhoni's prime number, he is a 7 born too. And 7 series dates are quite unlucky for sachin.
Also, going by todays constellations, CSK has an edge over mumbai. Most people in India wants Mumbai to win this match, but your adorable numerologer predicts otherwise,
IPL 3 belongs to CSK !
Lets wait for 3 more hours to confirm it 🙂